NOT SURE WHICH PRODUCT TO CHOOSE?
EXHALE DELTA-8 DOSAGE CHARTS
Basic Guidelines: 
We generally recommend between 10mg (Regular Dose) to 100mg (Strong Dose). 
EXHALE DELTA-8 GUMMIES CHART
STARTING
DOSE
REGULAR
DOSE
STRONG
DOSE
750mg
1 gummy = 25mg
1/2 gummy = 12.5mg
1 gummy = 25mg
2 gummies = 50mg
1500mg
1 gummy = 50mg
1/2 gummy = 25mg
1 gummy = 50mg
2 gummies = 100mg
EXHALE DELTA-8 <span "="">OIL CHART
STARTING
DOSE
REGULAR
DOSE
STRONG
DOSE
300mg
1mL = 10mg
0.5mL = 5mg
1mL = 10mg
2mL = 20mg
600mg
1mL = 20mg
0.5mL = 10mg
1mL = 20mg
2mL = 40mg
1200mg
1mL = 40mg
0.5mL = 20mg
1mL = 40mg
2mL = 80mg
EXHALE DELTA-8 <b "=""><span "="">SOFT GELS CHART
REGULAR
DOSE
STRONG
DOSE
300mg
1 soft gel = 10mg
1 soft gel = 10mg
2 soft gels = 20mg
750mg
1 soft gel = 25mg
1 soft gel = 25mg
2 soft gels = 50mg
1500mg
1 soft gel = 50mg
1 soft gel = 50mg
2 soft gels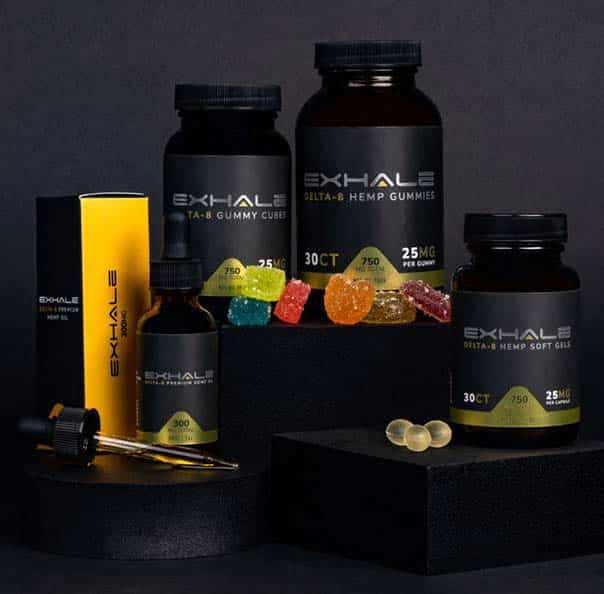 A standard dose can range from 10 – 50mg for a consistent D8 consumer with a medium tolerance. Consuming Delta-8 daily may build your tolerance up, which means the more often you take Delta-8, the more likely you will need to increase the dose to feel the desired effects.
The average single dose is closer to 15mg to 45mg. If your tolerance has built up past this point, you might want to try slightly higher doses. Or, stop using Delta 8 for some time before starting again. This will decrease your body's tolerance to feel the same effects at the same dose you are used to.
Strong Dose 
For advanced consumers, the dose can range anywhere from 20 – 150mg. This level is only recommended for those that are very familiar with their reaction to Delta 8 THC. If regular dosing amounts are not strong enough, this level might work better for you.
Remember to always gradually increase your Delta 8 THC dosage. If you're used to taking 30mg, for example, but you find your tolerance going up, increase the amount by 10mg at a time. Don't jump too far ahead, or you may risk negative effects such as lethargy or nervousness.
DELTA-8 DOSAGE CHART – BASIC GUIDELINES
Although it should not be considered a definite amount, there is a guideline to give you an idea of how to get started with Delta-8. These numbers are based on an average, which means they vary from person to person. So where shall we start?
First, answer these two questions: "Why do you want to take Delta 8?" and "How do you want to take it?" We'll get into those answers a little later on. But first, here are loose recommendations for each D8 tolerance level.
Starting Dose
A general starting point begins with an extremely low dose for those just venturing out on their journey with Delta 8 THC. Starting low and working your way up as needed can help you find what works for you without risking side effects. Remember: start low and go slow.
5 – 15mg is just low enough to ease your body into taking Delta 8 THC yet strong enough to understand how it will affect you. This dosage range has little to no risk of undesirable effects.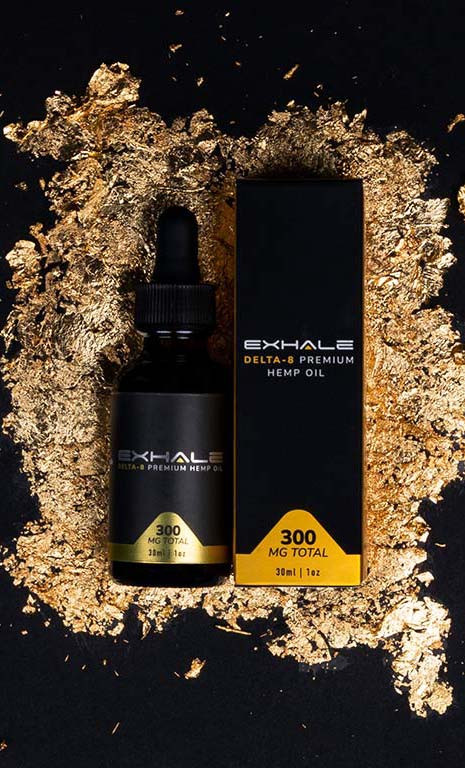 Any experienced cook knows that sometimes even a classic recipe can use a little tweaking. Add a little more butter here, a pinch more salt there, and maybe three more cloves of garlic like the good ol' Wolfgang or Chef Ramsey recommends. These adjustments can take your meal from pretty good to "just can't get over it". The Delta-8 dosage chart is like that classic recipe. Sounds weird to say, but it's true!
Starting with the recommended dose and adjusting the dose to perfect the formula to your taste is exactly what you should do.
But where to start? What is your recommended dose? That's what we're here to help with.
HOW MUCH DELTA 8 SHOULD YOU TAKE?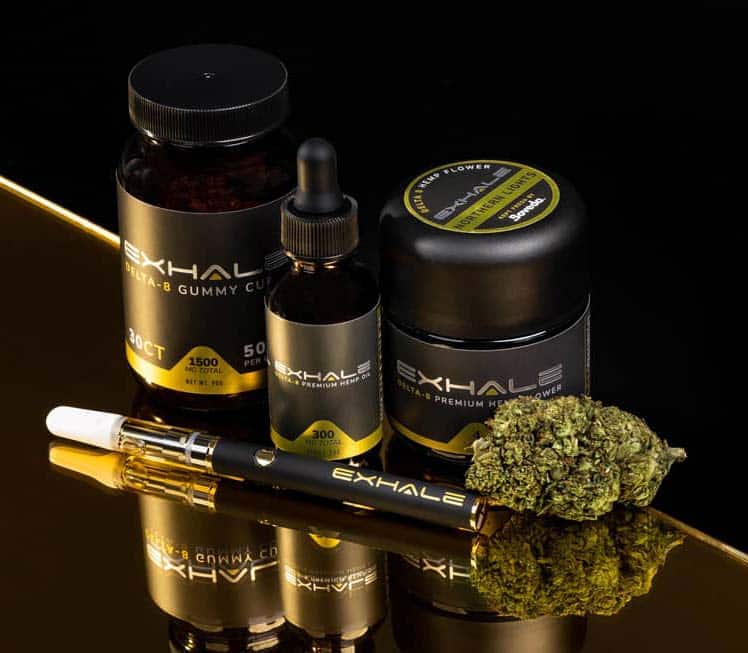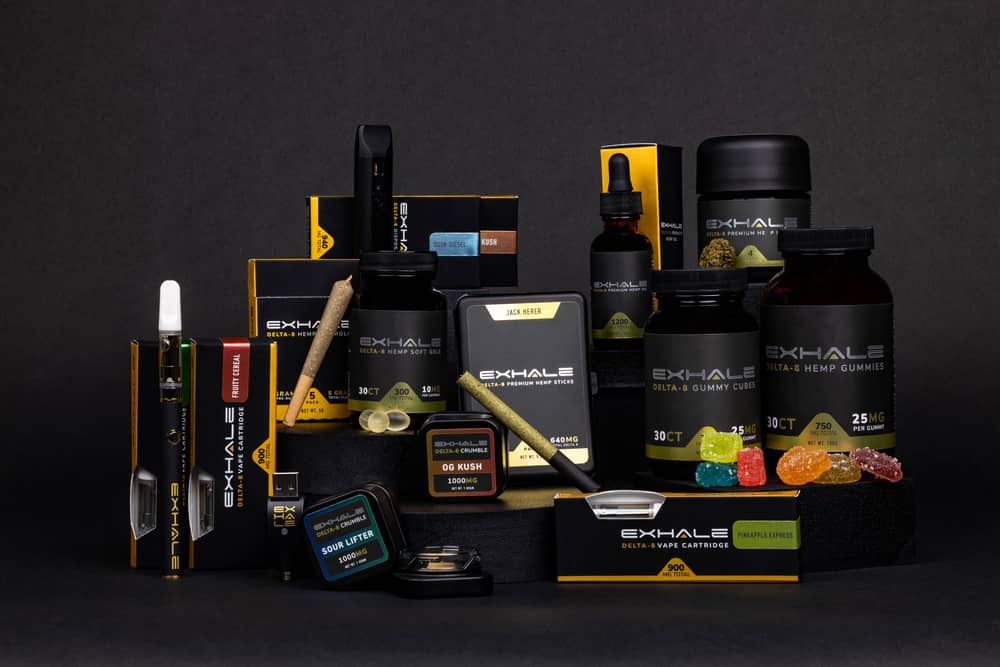 IS MY DELTA 8 THC DOSE THE SAME AS MY CBD DOSE?
Although Delta 8 and CBD come from the same plant, you should not base a D8 dosage on the amount you take for CBD. D8 is far more potent and affects the body differently than CBD does. Because of this, it is not recommended that you follow the same amount for both products.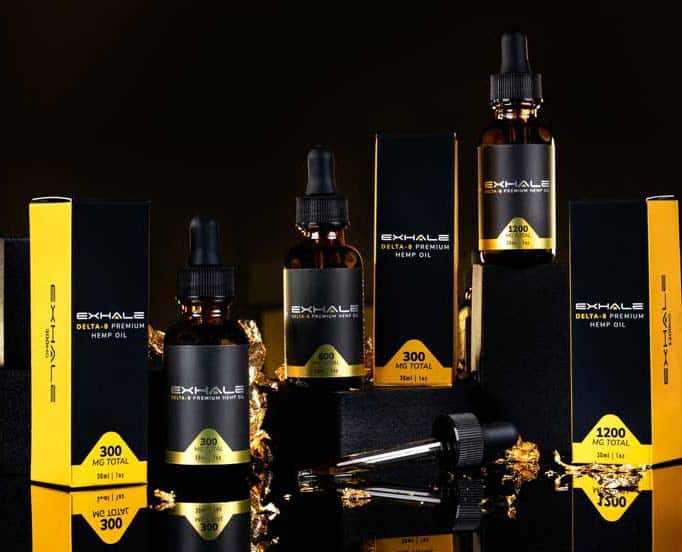 IS DELTA-8 THC THE SAME AS MARIJUANA?
Delta-8 is not the same as marijuana. While Delta-8 is a type of THC, it is not the same as Delta-9 THC, the primary compound in marijuana that gives a "high." Delta-8 does not cause the severe side effects and intense feelings of intoxication that Delta-9 THC might.
Besides molecular differences, Delta-8 is also considered much more stable than marijuana. Additionally, hemp-derived Delta-8 is federally legal for up to 0.3%, while marijuana is not.
IS DELTA 8 DOSAGE THE SAME FOR ALL PRODUCTS?
Each delivery method determines how many milligrams of a product you should take. Not all products are measured in milligrams directly or allow for exact measurements, so adjustments should be made if a product uses different units of measurement.
Inhalation
Products like vapes or rolls will specify their potency on the packaging. This will give you an idea of how potent the product is. For example, Exhale Well vape cartridges come in 900mg sizes.
Each 900mg cartridge offers roughly 100-300 puffs, depending on the size of the hits you take. Every puff will give you dosing of anywhere between 1 – 10mg of Delta 8.
The amount of Delta 8 you get per puff is difficult to calculate precisely because of lung capacity and how deeply you inhale. A puff may take in even less or even more than that 1 – 5mg range for some users. And of course, for products available in larger sizes, the potency will be even stronger.
CAN YOU OVERDOSE ON TOO MUCH DELTA 8?
It is possible to overdo the amount of Delta 8 you take, but it won't be lethal.  
The 2018 Farm Bill removed hemp from the controlled substances list, making all hemp-derived products an agricultural good. Delta 8 is one of these hemp-derived products. The Food and Drug Administration regulates Delta 8, making it a federally legal substance so long as the Delta 9 THC content in a hemp product makes up 0.3% or less of the total product. Delta 8 does not contain more than 0.3% Delta 9 THC.
FINAL THOUGHTS – DELTA 8 DOSAGE CHART
While dosing for Delta 8 may seem complicated, understanding the product types first can eliminate some confusion. First, ask yourself why you want to take Delta 8. This will help you narrow down choices and settle on your preferred method of consumption. Depending on product type, you will have to adjust your dose amount and frequency. From there, you can determine your dosing size. Starting with a small dose and working your way up will help you understand how your body reacts to Delta 8 and find a comfortable medium.
Using this Delta 8 dosage chart, you can easily calculate a dose that will lead you to a more enjoyable and smoother Delta 8 experience.